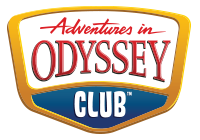 As Season 4 of the Odyssey Adventure Club, rather, Adventures in Odyssey Club, begins, you've probably noticed the club's new name.
Why is this happening? We're glad you asked!
The Odyssey Adventure Club, having been around for three seasons, confused many fans and left a disconnect between the Adventures in Odyssey brand and the club. What exactly was the Odyssey Adventure Club? As it seemed, the Odyssey Adventure Club could be taken (at first glance) as a separate entity from AIO. As Adventures in Odyssey has been around for nearly 30 years, the name and logo of the brand alone have a huge impact. By changing the name of the club to Adventures in Odyssey Club, the Odyssey team has opened up the door for better brand recognition. Brand recognition is the extent to which a consumer can correctly identify a particular product or service just by viewing the product or service's logo, tag line, packaging or advertising campaign. Those who see the Adventures in Odyssey logo branded with the club's name are less likely to be confused in the days ahead.
So how does this affect OAC members (now AIOC)? Not very much. You'll begin seeing the new Adventures in Odyssey Club logo on the club site, to marketing for the show. In summary, you can expect parents who see the name Adventures in Odyssey to be more likely to join the club for their families, which is what we as fans ultimately want. More members of the club means more funding for future Adventures in Odyssey episodes, books, and more. The club's purpose will remain the same and the same great content will be available moving forward.
Of course, if you haven't joined the Adventures in Odyssey Club, it's a great resource for families to access the entire series, plus exclusive episodes. You can learn more about AIOC at our Adventures in Odyssey Club feature, which we've updated to reflect the new name.
---