| Audio Player| Odyssey Chat |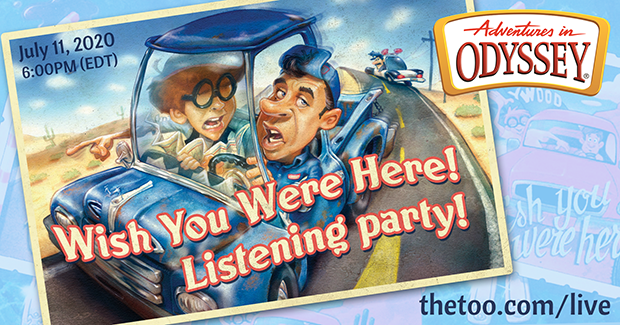 Mark your calendars! Set your alarms!

And be sure to join us for another Adventures in Odyssey Listening Party!

Enjoy an evening of chatting with other Odyssians as we listen to Eugene and Bernard's road trip across the country!
DATE:
Saturday, July 11
TIME:
6:00 PM (Eastern Time)
Timezone Conversion:
LOCATION:
Odyssey Chat using a web player found at thetoo.com/live
PLAYLIST:
First Hand Experience
Second Thoughts
Third Degree
It Happened at Four Corners
The Fifth House on the Left (1&2)
Gone...
...But Not Forgotten
Along with some possible bonus episodes and music!




So pack your bags! ..or maybe just grab a blanket and popcorn and sit back and relax as we embark on an expedition to Bakersfield, California!

Past AIO Listening Party Threads:
| June 2020 | March 2016 | December 2016 | December 2015| Christmas Party 2014 |
-